What is a Multilingual Website?
Multilingual may imply that a website available in multiple languages is multilingual.
Please do not fool yourself into thinking that having a real-time translator on your website makes it multilingual.
There is more to it than meets the eye.
Localizing the content of your website for each country makes your site truly multilingual.
A tool like Google Translate cannot do that. Translators are notorious for messing up with sayings, homographs, and colloquialisms, and they cannot understand things contextually and lack the human touch.
They do not work with inflected languages like Russian and often take words in literal meaning and make culturally insensitive translations.
A genuinely multilingual website will make the audience think that the content is written by a local. Put simply, if your content communicates the same meaning with audiences of different countries, yours is a multilingual website.
7 SEO Tips for A Multilingual Website
1) Translate Metadata
When you want to make your website multilingual, you are not just doing the task for the sake of your target audience. Instead, you also do it for search engines by optimizing your Metadata.
Metadata are invisible words read by search engines. Translating Metadata is crucial for your site to achieve a good ranking in the new country.
Metadata translation is not straightforward as content translation. It will demand your time and resources.
Since Metadata must be concise, translating it relevant to the content is of utmost priority.
You can use a metadata translation tool or plugin and optimize the translations with region-specific keywords.
2) Add Hreflang and Alternate Tags
Hreflang tags ensure that people from different regions view the localized content.
These tags also help you not get flagged for duplicate content. Everybody knows in the SEO world that Google does not want duplicate content on a site.
When you localize your content for multiple regions, the order of the images and the links embedded into the content will remain the same. If hreflang tags are not used, Google may mistake the content for a duplicate one.

These tags, when installed, will tell search engines that what they are viewing is not a duplicate but a localized version.
3) Go for Other Language Popular Keywords
A keyword that works well in one country does not necessarily perform the same in another, especially if the other country's people speak a different language.
Due to people's way of approaching things differently, users from two countries tend to use different keywords for the same query.
Let's say you have content titled "How to make cookies." Your site may rank higher for that particular keyword in the United States.
Assume that you want to optimize the content for a country like India. In that case, you need to localize it by replacing the word cookies with biscuits.
This is to give you an idea for localizing the content. Localization often goes deep.
4) Customize URLs
"You must create language subdirectories or subdomains for each language you target. The process is essential for Google to index your site for different countries", says Cristian Ward, the CEO of Sandiegoseo.company
Dedicated URLs also protect you from penalties for duplicate content. Google says it is a best practice to have dedicated URLs.
Take Amazon, for example. For international customers, they have the www.amazon.com site. But for Spain, they have www.amazon.es. This is a country-targeting strategy.
The e-commerce giant uses a ccTLD, a Country-code top-level domain, to target a specific country.
5) Be Culturally Sensitive
The translation is no joke.
Brands have faced backlash from communities for making culturally insensitive translations. A slang or a colloquial phrase that skyrockets your brand awareness in one country may offend the people of a different country.
You cannot use them unmindfully, thanks to taboos and spiritual values linked to specific words and phrases.
A classic example is American Dairy Association's "Got Milk?" campaign in Spanish. The campaign was so successful in the US that the association wanted to replicate it in Spain.
It was sad that ADA did not know that "Got Milk?" when translated word for word into Spanish, becomes "tienes leche?" which refers to lactating mothers.
The Latino community interpreted it to a whole new level. They thought the campaign mocked them that Latino mothers were not feeding the babies enough milk.
Partnering with local language experts will help you avoid this pitfall.
6) Be Aware of Local Laws
Laws and regulations differ from country to country. When you set foot in another country, you must adhere to the guidelines of that land.
Hence it becomes a prerequisite to go through the rules and regulations beforehand. Not doing so may invite penalties.
Say that you are an American-based e-commerce entity looking to expand your business to Europe. The European rules mandate websites to notify the use of cookies the visitors.
Some countries do not allow online stores to sell certain items. Take UAE, for example. The UAE rulers do not allow things that are offensive to Muslim culture. For example, you cannot sell items made of pig leather.
You are also restricted from selling a wide range of items such as sex toys, statues, clothing that contains images of nudity or drug, etc.
7) Ask Visitors About Redirecting
Google recommends asking visitors whether they want to be redirected to the 'right page.'
International sites always ask visitors whether they want to visit the site of their region. During sites like Amazon display 'Language Settings' on their homepage, some use pop-ups to ask users whether they want to be redirected.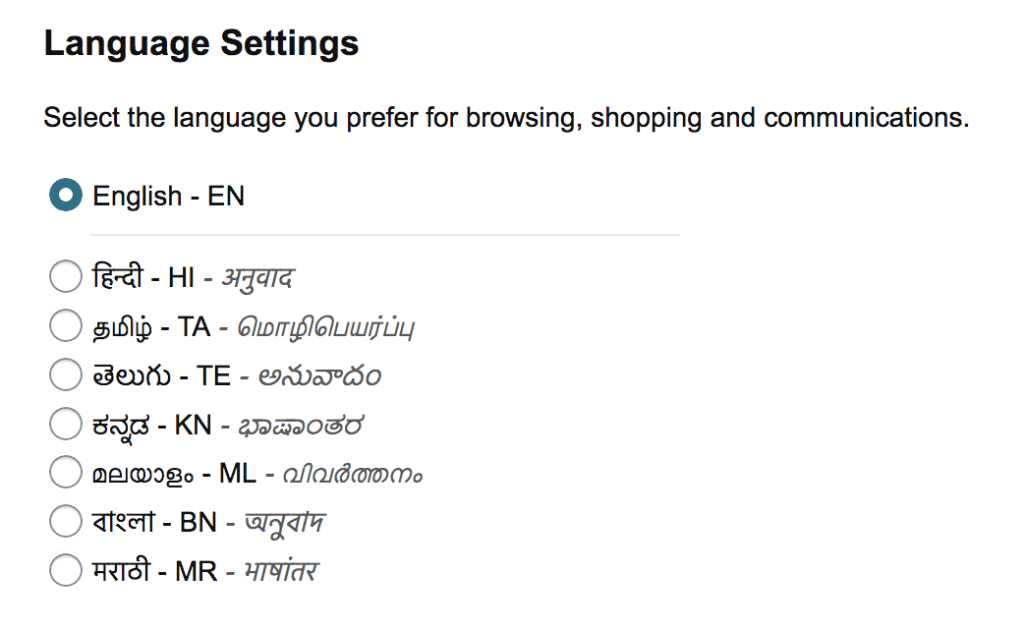 You may think that redirecting users to the site of their language is a smart move. But what if the user doesn't want to consume the content in their language? Hence asking them beforehand is good.
Another problem associated with automatic redirection is that visitors may view your site as spam.
8) Adhere to One-Language-Per-Page Strategy
Many multilingual sites make the mistake of translating one section of a page and leaving the rest. This phenomenon is common among sites that have user-generated content (UGC).
UGC is common in forums and comments sections. The first drawback of having multiple languages on a single page is the chance of being viewed as spam. Secondly, having more than one language on a page creates a bad user experience.
Google does not use a code-level language to determine a page's language; it just uses the visible content to find it.
If you use an automated translator to deal with your site's content, the translations may not make sense at times. This, in turn, will make Google think that the content is spam.
Pro Tip: Using robots.txt will stop search engines from crawling the automatically translated pages.
Best Tools to Manage Multilingual Content
1) Drupal
Drupal offers an automated language translation service in 100 languages. It even supports Farsi, Arabic, and Hebrew languages with a right-to-left text direction.
Drupal instantly translates the content into the language you want. Its core modules can translate every part of a site. From contact forms to comments, you can translate pretty much anything.
The tool will also detect a user's "preferred language" by tracking his/her IP address, URL, browser settings, etc.
Drupal seamlessly integrates with language service providers such as Acclaro.
2) Transifex
Transifex claims that its clients include Microsoft, Eventbrite, and HubSpot. It uses a SaaS-based technology to translate your website content and the content of your mobile apps, help centers, etc.
The platform also provides a dedicated space for human translators to manage the projects.
Transifex comes with a free 15-day trial and offers a free demo. They offer two types of services: File-based and JavaScript solutions. While the former is best suited for rich content sites, the latter is ideal for simple localization and WordPress websites.
At the time of writing this article, Transifex supports 50 languages.
3) Weglot
If you are looking for a quick solution for your translation needs, Weglot may be the right pick for you. Available in 100+ languages, companies such as Nikon, IBM, and Spotify use Weglot.
The best part about Weglot is its compatibility. One can easily integrate Weglot with various Content Management Systems (CMS) such as Shopify, WordPress, Wix, Squarespace, etc.
Weglot also scores well on the Usability front and is one of the easiest and most lightweight translation plugins.
The plugin is available for free to download on WordPress. Once downloaded, it can be integrated with the Weglot platform to translate any site instantly.
4) Memsource
Memsource uses patented AI technology to translate your web content. Users of Memsource include Shopify, Uber, Huawei, and Whirlpool (Canada).
More than 2,00,000 global users rely on Memsource for their translation needs.
The technology, according to Memsource, identifies content that can be translated by itself automatically and assign the parts that need human intervention to human translators.
Memsource supports more than 500 languages. It integrates with various platforms such as Drupal, Zendesk, Hubspot, WordPress, etc. Users of Memsource get 24/7 support.
5) Polylang
Polylang plugin allows you to translate custom taxonomies, navigation menus, widgets, URLs, etc.
It has four versions: Free, Pro, Business, and Polylang for WooCommerce.
It is a lightweight tool that does not depend on shortcodes but on WordPress's taxonomies. Integrating Polylang with the WordPress admin interface is effortless.
It is compatible with popular SEO plugins and cache plugins. With the pro version, your translations can share the same URL slug.
6) MotionPoint
MotionPoint claims to work with brands such as AT&T, Ford, FedEx, Mazda, and JetBlue. The technology MotionPoint uses reduces the operational complexity involved with localizing a website.
MotionPoint's complementary technologies help businesses translate social media and digital marketing content.
The thing that makes MotionPoint stand out from the rest is its turn-key solution for localization, and it does not rely on applications to enhance the translation process.
MotionPoint claims to leverage world-class linguists' talents in localizing your content.
7) WPML
WPML is another popular WordPress plugin made for managing multilingual websites.
Using WPML, one can translate pages, posts, taxonomy, menus, etc. It is compatible with all themes and plugins that use WordPress API.
WPML is one of the most preferred tools for managing multilingual sites, as nearly a million sites use it.
WPWL gives you absolute control over how your URLs look. With WPWL, sitemaps pass Google Webmasters Validation. As a result, search engines will send the right traffic to the correct website version. The tool comes with a 30-day refund policy.
Multilingual SEO FAQs
1) How do I Optimize My Multilingual Website for Search Engines?
There are many strategies available to optimize your multilingual site for Google. Some common techniques are hreflang tags, canonical URLs, and cross-domain alternates.
Placing hreflang tags on every version of your pages is a must, as search engines such as Google and Yandex recommend it.
The use of canonical URLs is to ensure that Google does not ignore hreflang tags.
2) Which Is Better? CcTLD Or Sub-Domains or Subdirectories?
It depends on your business needs. For example, let's say you want to expand your business to a country like China. Without a .cn TD, getting ranked on Baidu, a leading search engine company in China is challenging.
With Sub-domains, using a third-party translation tool is easy. When it comes to subdirectories, it is extremely easy to start with. The best part is that subdirectories get all the brand and ranking values of a root domain.
3) Does Translate English Keywords to Other Languages Work?
The answer is maybe. Let's understand what keywords are first. Keywords are a combination of words made up by a user to get an answer to a query.
A user from a different country is improbable to use the exact keywords for the same query.
For example, in India, people use the word 'Hotel' to search for restaurants. Similarly, 'Parcel' is widely used to denote 'Takeaway.' The best way to identify keywords is through data derived from native users' search queries.
4) What Is an Hreflang Tag?
Hreflag tags tell search engines what language your site's content is in and to whom it is meant. These tags are a must for sites having content in multiple languages.
Hreflag tags help improve user experience and thus reduce the bounce rate. The tags are also instrumental in dealing with the Duplicate Content issue.
5) How Do You Find Other Popular Language Keywords?
When finding other popular language keywords, direct translation seldom works.
Using Google Keyword Planner is a common method to find keywords in languages other than English.
Another technique is working with a native speaker who is a professional translator. Because people use colloquial terms rather than formal words to do online searches, hiring a native speaker will prove beneficial.